We know that taking time to maintain or repair your vehicle can be challenging so our Free shuttle service runs all day long. You depend on your vehicle every day and it is our job to offer the most convenient and professional options for your car care. Our shuttle will take you anywhere you want to go! YEP! ANYWHERE!
281-540-2000
Now you can get your shopping done while we fix or maintain your vehicle.  Our shuttle starts at 6am every weekday morning including Black Friday.  You can drop off your vehicle at Beckwith's Car Care and we will give you a ride to the mall or store of your choice - of course we will pick you up again when you are finished. This saves you the hassle of parking at the stores and provides security for you and your packages because we will pick you up right at the door of your shopping location.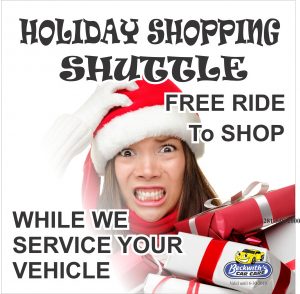 Do you commute on Metro or with a Car Pool Service? Our extra early and late hours are the perfect way to get to your bus or van on time. Our Complimentary shuttle will give you a ride to any of the Park & Ride locations to make your commute to work an easy one. Plus you don't have to spend your day off getting your vehicle serviced!